Hello everyone! Today is that day of the year where we.... errrmm... are free to write news that may follow alternative realities since it is April's Fools day. I know that people usually do not announce that before doing an April Fools joke of any sort, but in PPM we do not follow any of these standard scripts when doing this kind of thing. Well, I must admit that this time the local authorities of the city and state that I live were unbeatable in terms of April's Fools joke, because...I had yet to see... an April's Fools Holiday! Yea, here and some other cities and states of Brazil April 1st is indeed an official holiday exclusively for this year. For those wondering if the local politicians decided to do a homage to their own lies, it is really not the case. In Brazil, covid-19 is completely out of control and its president seems to believe that herd immunity is the way to deal with this problem, by exposing everyone (especially those younger than 60 years old) to this disease regardless of the deaths, damages that this virus may cause into survivors, as well as the mutations that may cause reinfection or even bypass the immunity generated by vaccines. Also, for those who are infected, there are lines with tons of people, sometimes more than a thousand, to get a public ICU to help them to breathe. The president doesn't seem to have any empathy about that either. So, in that context, some of the governors and mayors (including the ones where I live) decided to declare a 10 days long holiday starting from March 26th, which ends up transforming April 1st into a holiday here. This and some social restrictions seems to be the closest thing that authorities did to resemble a lockdown here, since the use of the army to help with that is impossible, by the orders of the president who is trying to use the army to combat any attempt to create a lockdown here.

Covid-19 has made many odd things happen here recently, but if you don't believe in the story I just said, it is ok. After all, it is April 1st. Stories might be distorted just like the death of Super Mario or not. However, our focus here is not politics, nor Super Mario. So let's get to the stories that matter here, believe it or not:




It's time we've seen the future: Tiberian Sun Remastered?




Electronic Arts have not announced any new remasterization since the Command & Conquer: Remastered Collection so far, however, fans are already moving forward with it. While the developers of the OpenRA engine are working on high-resolution sprites support and their Tiberian Sun mod, other fans were working on the full-motion videos. Here's a demonstration featuring videos from Firestorm expansion, kinda old, I know:





Do you believe in a free fan-made Tiberian Sun Remastered Collection coming before 2030? Yes, I do!





Red Alert 2 playable in the browser!




Red Alert 2, unlike the older games, is not freeware and can be obtained at the Origin store. However, if you want to try it before buying it, you have a fan-made option known as Chrono Divide. It's a work-in-progress browser recreation of Red Alert 2 and it seems to be very well done so far.





Of course that the full game is more complete and The Ultimate Collection also brings Yuri's Revenge. Nonetheless, if you enjoy this web version, you can provide some feedback for the author at our forums.





Mental Omega for Android




And talking about Red Alert 2, we have big news. In China, most people are not aware of Red Alert 2, and if you find exceptions, many of them might think that Red Alert 2 is a modification of Mental Omega and not otherwise. Considering this public, EA has made a joint venture with the developers of Mental Omega to release an android version of the mod with tests starting on April 1st, 2022. You might not find much about it at the official Command & Conquer site, because they are targeting the Chinese public. For this reason, the Mental Omega discord channel has taken a step further and posted an informal announcement about it:


Quote:
You probably expected absolutely nothing and I will not disappoint you! This time however I have rather important news. As you know, Mental Omega is playable only on one medium - PC. This is about to change, as unexpected cooperation with Electronic Arts allowed us to something that nobody asked for - Mental Omega is going Mobile.

Pre Register for alpha access will begin on April 1st, 2022. In other words, coming s00n!

For now, feel free to check the preview of our page on Google Store. And no, we're not releasing on iOS, because "we love" Apple.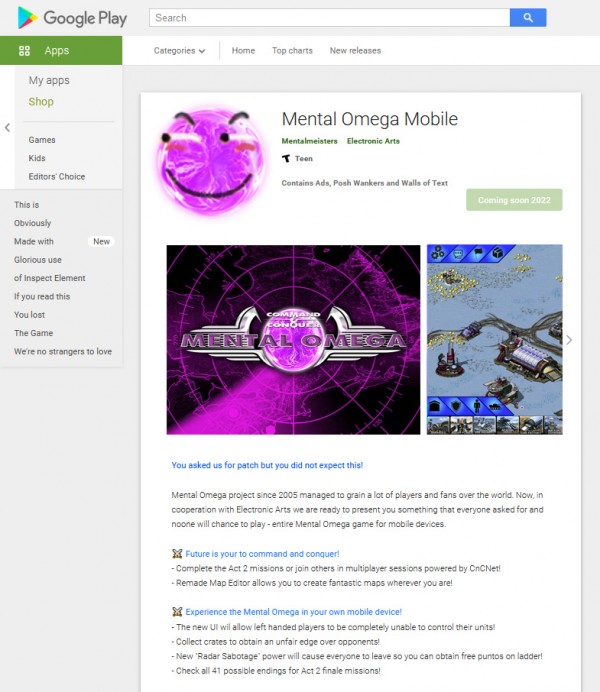 Note: we may have done minor changes at the announcement, between quotation marks, in order to make it look less impolite.




And that's it. Post below what do you think is true or false and share your thoughts about it:

a) April's Fools Holiday
b) Super Mario Death
c) Unofficial Tiberian Sun Remastered
d) Chrono Divided: RA2 in the browser
e) Mental Omega for Android